Stucco bases including solid masonry walls of brick or concrete masonry units, cast concrete, or scratch/brown portland cement plaster over lath, are in and of themselves durable materials that with minimal maintenance should remain serviceable for the life of any building.  However, when exposed, these materials are subject to weathering and deterioration, and sometimes these materials are not attractive aesthetically.  A stucco finish coat can be installed over bases which enhance the aesthetics and coloration of the building and improve durability by functioning as the exposed layer of protection against water-related deterioration. Texture is an articulation of the exposed stucco finish surface and only occurs in the stucco finish coat.
This webpage focuses on the textural possibilities available for stucco.  Architects realize that textures can be an important aspect of the architectural expression, tactile experience and sculptural qualities of a building.  Finish coat texture selection and specification can be an important factor when desiring that the visibility of stucco cracks and base coat surface imperfections be concealed.  Cracks can be more noticeable with smooth finish textures, and are less noticeable with more heavily articulated finish textures.
To pursue and achieve that perfectly flat, planar, joint-less, crack-less stucco finish coat aesthetic is an admirable goal but far from reality.  The vast majority of substrate construction in the USA is not masonry, a substrate that has few if any joints, but framed construction which requires stucco with movement joints for performance reasons.
Acknowledging the preference for smooth stucco surfaces in certain contexts, it is also important to realize that our buildings can benefit by expressing the unique fluid, plastic qualities of stucco in other settings.  Portland cement-based plaster is a fluid, plastic material when it is installed, and it is within its nature to express its fluid, plastic qualities, even more so than when used as a flat plane.  Stucco can be used to clad an entire building, or portions of a building for aesthetic or architectural, compositional effect.  A range of different textures can be used on the same building, with aesthetic discretion, for various aesthetic effects.
Textural possibilities are limited only by the imagination and variations in the finish coat application methods, tool selection and materials used.  Textures from the smoothest surfaces (including metallic emulations), to fine-, medium-, and coarse- grained textures, to embossing, scoring, and finally to three-dimensional sculptural effects that are molded integral with the wall but project from the wall.  Textures are influenced by the selections of materials used such as aggregate type, size and density.  Small dimension aggregates typically result in smooth finishes, coarse aggregates allow heavy articulation.  Aggregates can be mixed into the finish stucco matrix or embedded by casting onto a bedding coat.  Decorative inorganic exposed aggregates can be implemented for a variety of effects – glass fragments and beads, glazed tile, mica flakes, stone chips, sea shells, crushed pebbles and small gravel – what other materials can be used?
Stucco finish coat materials consist primarily of an aggregate which provides durability and color, a binder which adheres to the aggregate and stucco base, and often an integral pigment or pigmented surface coating.  To be durable, aggregates must not be adversely affected by water (non-ferrous) or by alkalis from the stucco base or binder.  Aggregates may include silica sand, marble, granite and similar inert materials of various gradations.  Aggregate gradations range from the finest granularity (almost a powder) for smooth finishes to small dimension gravels for the coarsest, most articulated, tactile textures.  Stucco finish coat binders can be portland cement-based, lime-based or polymer-based and durability is primarily determined by the binder material characteristics.  Portland cement-based finish coat binders are durable and common, whether they include integral pigments or are painted.  Lime-based finish coat binders were the traditional finish coat material until portland cement became more abundant and popular, but remain available.  Polymer-based (typically acrylic) finish coat binders, as a carry-over from the EIFS industry, are becoming prevalent in contemporary construction.  Each of these different finish coat materials has different aesthetic and performance characteristics. Not all textures can be created using each different binder material.
Textures are also influenced by the installation techniques and tools used by craftsman.  Stucco finish coats may be simply trowelled or sprayed on and textured during installation.  Smooth surface trowels, steel and plastic, result in smooth finish textures, sponge and wood floats create rougher textures.  What other tooling can be used to create desirable, unique pattern or texture variations?  With imagination, implementing a variety of interesting finish textures in addition to the standard sand float and spray-on knockdowns that are so common, can be explored and implemented.  Make the stucco finish texture an important aesthetic feature of the spatial experience.  Use your imagination.  Be creative.
<![if !vml]>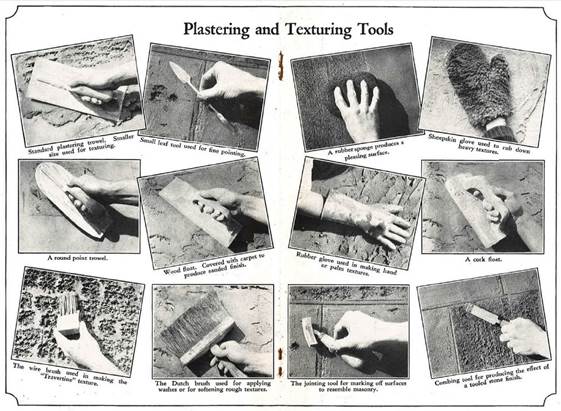 <![endif]>
Plastering and Texturing Tools
From Plasterer's Manual P21, Portland Cement Association, 1948(2)
Photo used with permission of the Portland Cement Association
<![if !vml]>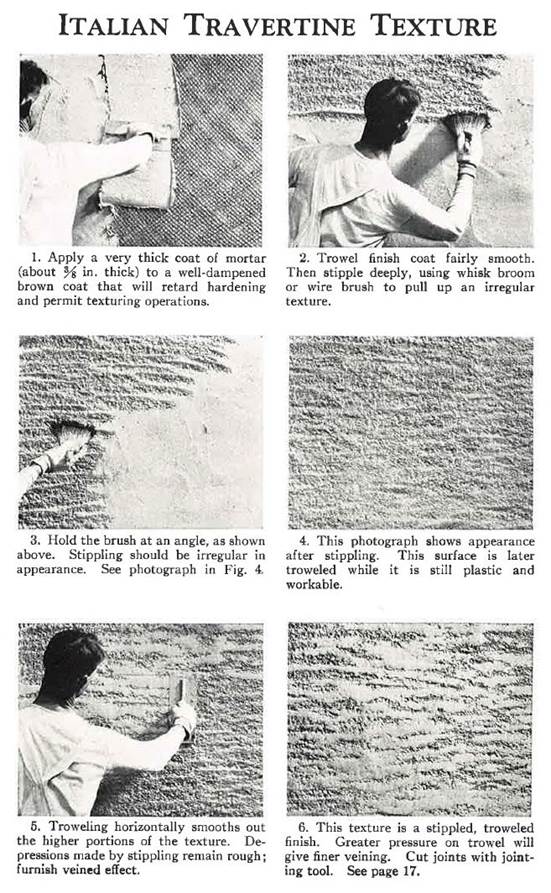 <![endif]>
One of several illustrated texturing techniques
From Plasterer's Manual P21, Portland Cement Association, 1948(2)
Photo used with permission of the Portland Cement Association
Anticipate that manually-applied finish texture coats will not be perfectly uniform as when produced with machine assistance.  Variances in manually-applied finish coats are germane to its character and artistic expression.  A higher level of artistic craftsmanship is required for the most creative textures.
Artistic expressions of stucco finish textures by imaginative and experienced craftsman can include emulated naturescapes with rocks, boulders, naturalistic stone outcroppings, tree trunks, roots, which can integrate water features, creeks, streams, waterfalls and landscaping materials.  Stucco can be an excellent emulation media for stone and specialty naturalistic environmental settings and where integrated with a building design can become "one with nature".
More sophisticated decorative patterns and effects similar to Venetian plasters such as Sgrafitto may be possible using portland cement plasters.   It is time to experiment.