Stucco buckets earned their description from the water containment effect of the stucco cladding system as if it were a bucket, where it wraps from a vertical wall onto an adjacent horizontal soffit surface, directing water into the soffit assembly.  A stucco bucket configuration with continuous stucco and WRB, provides no mechanism for draining water contained within the vertical stucco wall assembly, to get out.  The contained water may be held against framing members where it can cause concealed damage whether the framing is wood or metal.
The building code defines weather-exposed surfaces (WES), which are effectively all exterior building surfaces that are not weather-protected, in specific geometrical and dimensional configurations, by roofs, overhangs and perimeter soffit beams.  WES can include the vertical wall surface above the soffit corner, the horizontal soffit surface contiguous with the soffit corner at dropped beams, stair landing edges, recessed window and door opening heads, soffit surfaces at recessed building entryways and similar conditions.  At longer spanning beam soffit edges, water may collect and cause damage proximate to the center of the beam span resulting from normal beam deflection.
<![if !vml]>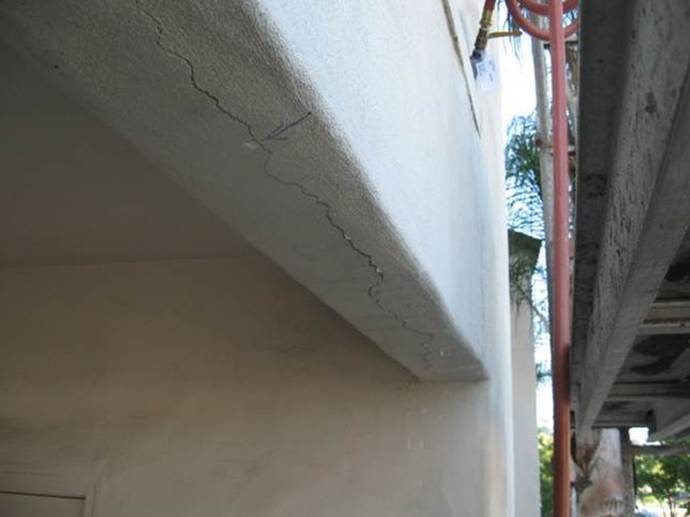 <![endif]>
Stucco Bucket 05:  Stucco bucket at weather-exposed dropped perimeter beam, the bullnose corner is a give-away.  Parallel crack on horizontal soffit beam surface during water testing.  Note water nozzle in background and water droplets at beam soffit crack.
Certain stucco bucket configurations can be exacerbated by adjacent weather-exposed construction that accumulates and directs water towards the stucco bucket, such as tube steel exterior stair support tubes or stringer beams bearing onto stair landing edges.  Additionally, stucco panel areas at soffit beams and similar stucco bucket assemblies while small in area, frequently exceed the Minimum Stucco Industry Standards for stucco panel area proportions, potentially allowing cracks to occur that allow water entry into the stucco bucket assembly.
<![if !vml]>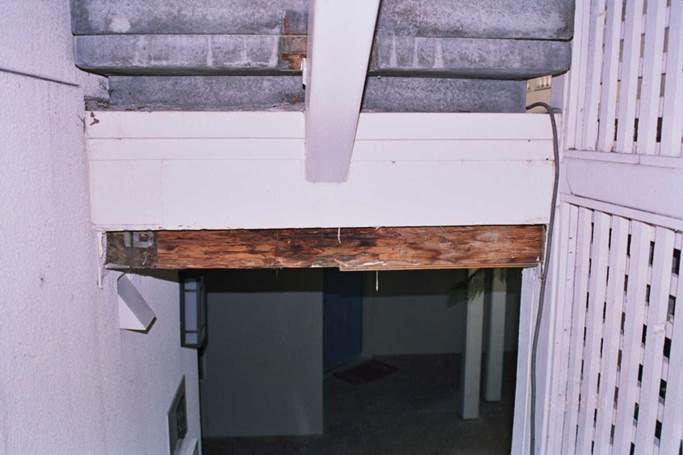 <![endif]>
Stucco Bucket 06:  Stucco bucket at weather-exposed stairway landing beam.  Stairwell open to the sky, angled stair support tube directing water towards stair landing, with stucco bucket configuration below.  Note water staining on exposed wood beam framing.
<![if !vml]>
<![endif]>
Stucco Bucket 07:  Stucco bucket at weather-exposed recessed window head.  This entire stucco soffit surface is a WES.
Complicating matters, building codes and Minimum Stucco Industry Standards do not recognize this condition, or contain requirements to address and avoid stucco buckets, even though they have been well-known in the forensics community for many years.
For proactively addressing stucco buckets, a variety of standard soffit drainage lath accessory or drainage screed flashing components are available as solutions.  Soffit drainage screeds are available in all the typical lath accessory materials, in a range of profiles, for integration with the WRB, to function as a soffit corner drainage subassembly and direct water out of the wall assembly and divert it away from the soffit.
<![if !vml]>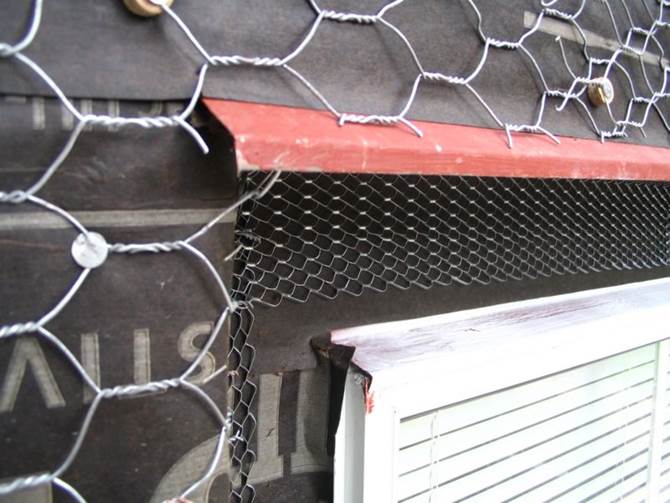 <![endif]>
Stucco Bucket 08:  Soffit drainage screed (no perforations) installed above weather-exposed recessed window head location.
<![if !vml]>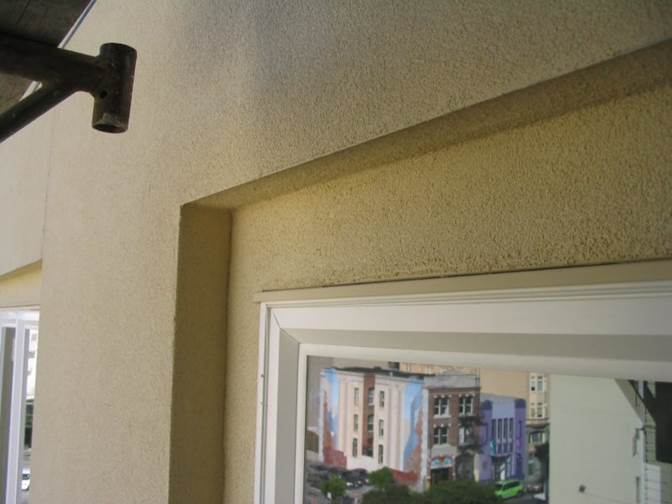 <![endif]>
Stucco Bucket 09:  Weather-exposed stucco soffit surface at recessed window head location, with soffit drainage screed.