Because stucco is applied while in its plastic state, it easily conforms to whatever its substrate support geometry requires.  Curves, spheres and distorted planarity are not significant challenges as they are with most prefabricated panelized claddings.  Fantasy-themes, whimsy and irrational geometries can be realized for aesthetic effect.
Exposed concrete and mass masonry buildings of stone, adobe, brick are directly subject to the weather and due to their robust thickness and mass, water and air infiltration is of relative minor concern.  The small dimensional size of masonry and stone units and the fluid nature of cast in place concrete, easily accommodate the full range of architectural geometries – from linear and planar, to curvilinear, even spherical.  However, buildings constructed of these materials can develop cracking which can allow water intrusion, and because of direct weather exposure are subject to surface deterioration over time.  Stucco cladding can resolve these potential issues.
Stucco cladding can be constructed without joints, but it needs to be direct-applied to a mass masonry or solid concrete building substrate supports as a barrier wall.  No WRB is used in this assembly; the mass of the wall is the weather protection.  Stucco applied in this manner is continuously bonded to its substrate support.  Depending on the circumstances, this can be a durable method for applying stucco on a building.  Not many buildings are constructed with mass masonry or solid concrete walls in the USA but they are common in other parts of the world.
Stucco on buildings of framed or framed and sheathed substrate support however is an entirely different circumstance.  Stucco cracking at wall openings such as window and door corners has been problematic for stucco on framed buildings since the earliest use of stucco.  At the time, stucco on wood lath and later metal lath, was applied continuously over all building substrate support surfaces without interruptions as if it were emulating stucco directly applied to masonry barrier wall buildings.  The earliest causes of stucco cracking at wall opening corners on framed buildings were commonly regarded to be building movement and expansion of wood windows due to water absorption.
Framing components are linear and more easily used to produce linear and planar forms.  Stucco on framed drainage wall buildings has behavioral characteristics profoundly different than stucco adhered to masonry and concrete barrier wall support substrates.  For this reason expressed movement joints in the stucco cladding for minimizing the effects of movement in the substrate support and from shrinkage and thermal effects on the cladding, as well as expressing drainage flashings, are essential for stucco on framed and sheathed buildings to function properly, to minimize cracking and accommodate drainage from weather exposure.
Why is there such an aversion to expressed movement jointing in stucco?  Virtually every other building cladding and surfacing material requires joints as an integral component of the system.  Joints provide human scale, accommodate thermal movement, provide modularity, facilitate installation, provide locations for drainage, and more – all the same characteristics that benefit stucco cladding.  Stone, tile, metal panels, wood siding, brick, CMU, precast concrete, GFRC, glass curtain walls…all have expressed jointing.  By holding stucco cladding on framed drainage walls to the same aesthetic and performance expectations as stucco on concrete or masonry barrier wall buildings disregards what stucco needs and wants to be on frame buildings.  We need a paradigm shift which requires expressing stucco movement joints as they need to be, and it is appropriate and beneficial that stucco movement joints be used for creative purposes and celebrated.
Attempts to intermix a panelized stucco application on a concrete or masonry barrier wall substrate support, or continuous stucco on a framed/sheathed drainage wall substrate support presents technical challenges and are best avoided.  Stucco application to the same building with both concrete or masonry barrier wall substrate supports and framed/sheathed drainage wall substrate supports can be quite successful and the stucco cladding, although applied differently because of the different substrate supports, can provide a homogenous aesthetic if that is a desirable architectural intention.  The two following images illustrate singular buildings with stucco both direct applied to a monolithic concrete barrier wall substrate support and onto framed/sheathed drainage wall substrate supports, resulting in a monolithic, homogenous aesthetic but each stucco wall cladding type functions differently and independently.
<![if !vml]>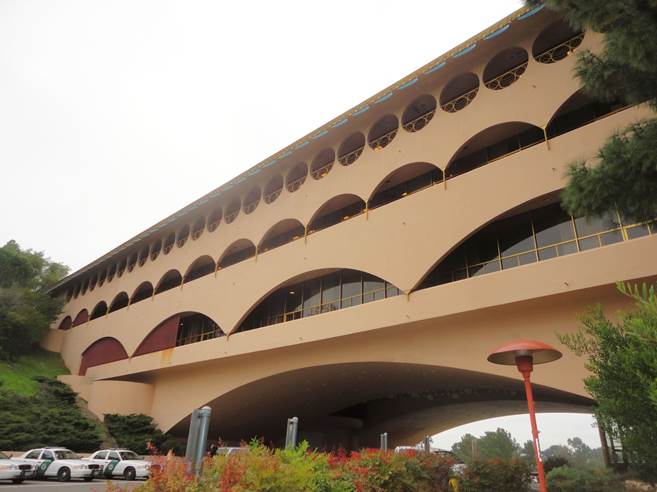 <![endif]>
Marin County Civic Center
Marin County, CA  1959
Architect:  Frank Lloyd Wright
<![if !vml]>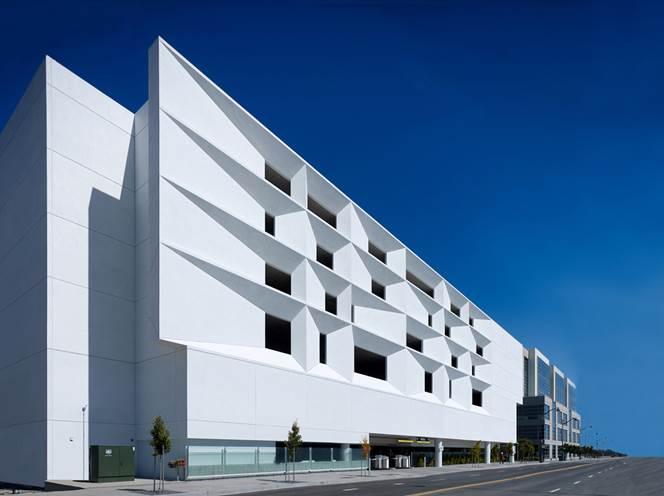 <![endif]>
450 South St. Parking Garage
San Francisco, CA, 2009.
Architect:  WRNS Studio
(Photo used by permission of WRNS Studio)
Of critical importance, certain stucco finishes and jointing configurations demand special evaluation when stucco is used in non-vertical, non-planar or otherwise distorted geometries, and at weather-exposed low-slope conditions.  Overlooking these limitations can reduce durability and increase maintenance.  Stucco is best suited for vertical and near vertical exterior wall surfaces greater than 60 degrees from horizontal.  Where stucco transitions into low slope, sky-facing surfaces…the functional equivalent of roofs…this stucco application should be avoided, or at the very least special considerations need to be made for waterproofing these conditions and integration with adjacent materials.
Stucco lath accessories and flashings are typically linear and rigid and may require special design and fabrication to accommodate curvilinear forms.